[Exhibition] Cadavre Exquis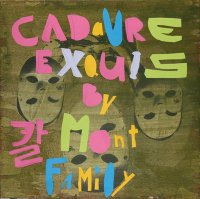 The Kalmont Family presents Cadavre Exquis at Space?(Beam).  Kalmont Family is a family of friends and an international group of artists living and working in Korea. They originally formed within the abandoned neighbourhood of Guemho in Seoul where they spent their summer weekends exploring, sharing, and making art.
Cadavre Exquis is French for "exquisite corpse" and originates from a Surrealist game in which players take turns writing or drawing on a piece of paper. Each player conceals their work with a fold, revealing only a tiny portion until the page is complete. For this group project, they embrace the game's historical and literal associations, replace the conceptual element of concealment with interdisciplinary collaboration, and expand the material from simple paper to the space of the city and of their friendships. All the works in this exhibition are new projects developed between the artists involved.
The Kalmont Family takes a specific interest in the Baedari area because of its strong sense of community and its current struggle against rapid redevelopment. Space?(Beam) is an alternative art space located in an old rice wine brewery building on Baedari Road in Incheon, Korea. Many people call Bandari the "Mother of Incheon" since Incheon's modern history, culture, education, religion, labour, and even transportation started there.
SpaceBeam is trying to establish the unique identity of local culture as an alternative art space under the motto of publicity, locality, and autonomy. It intervenes in the course of production, circulation, and consumption of discourse on local art and sets the stage for open meetings and productive communications while struggling with the centralised culture & arts system.
I will present a work "360 Eco Park" in this exhibition which collaborated with an artist, Jamie Bruno. This work will not present at the opening day, but from 17th to 24th of October, you can see it.
We are planning the following events over the month of October.
Check our site for more info: http://www.kalmontfamily.com/
Exhibition Duration: from October 10th to the 25th, 2009.
http://www.kalmontfamily.com/where/