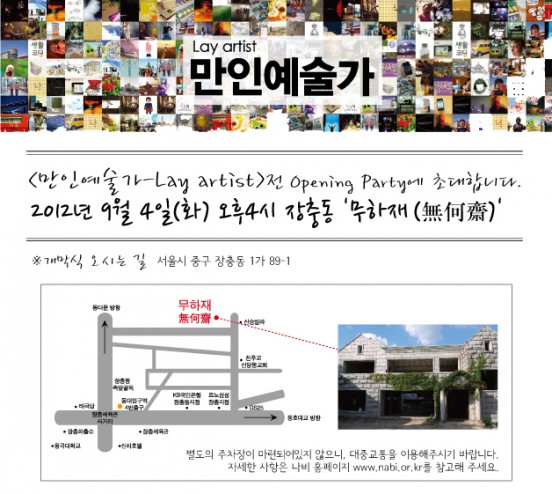 The advent of 'Lay artist' in the new media age
Art signifies creative human practices that produce aesthetic works. Therefore, artists are 'people who engage in the creation of art'. In the past, those who created aesthetic works under the categories of painting, sculpture, and crafts were called artists. But since the 20th century, people who generated new thoughts and concepts in the fields of art, music, literature, dance, and so on took over the status of artists. New types of art such as photography, film, media art, game, fashion, etc., rose one after the other. The boundaries and concept of art, except for the common ground that art signifies 'creative human practices', is constantly transforming/expanding even at this moment. Thus, the phrase 'Everyone is an Artist' implies that all of those engaged in creative practices are artists.
Creative practices do not simply indicate preexisting boundaries of art. There is a former engineer who worked as a Creative Commons activist for copyright sharing and ultimately became an artist who kindly shares her own drawings. There also is a multicultural theater company which members shed the biased social minority image that was given to them and stood tall as proud actors. Disabled artists, who had difficulties looking at their own exhibition, met with non-disabled artists and threw a festival with their collaboration artworks, and a 'visually impaired band' was reborn as a 'office worker band with nothing to see or lose' and went onstage in front of the whole nation.  The achievements of all of these people are creative practices. Thus, the phrase 'Everyone is an Artist' goes beyond the original areas of art.
Tree Planet, which kills two birds with one stone by planting an actual tree in the desert when a tree is grown in a mobile application; an open source crowd map, Ushahidi, which creates a joint map by gathering information from individuals through the Internet; a social game, Free Rice, which donates rice every time a quiz is answered correctly – these are all projects that splendidly combine digital media and social change. Organizations such as Kiple and Kozaza experiment with 'a sharing economy' which is more meaningful than an owned business: 'Miracle Bookshelf-BOOKGIVE' that distributed around 100,000 books across the country employing just the service of SNS and voluntary participation – these are all doers who construct innovative models. All of them are creative activists, hence 'Artists'.
Opening on September 4th 2012, Art Center Nabi's exhibition «Lay artist» boasts a thousand participating artists in accordance with the title. But September 2012 is also the biennale season in the Korean art world. Gwangju Biennale, Busan Biennale, Daegu Photo Biennale, as well as Seoul International Media Art Biennale, all open in September. As you all know, biennales are comprised of star artists with recognition from the international art world. That being said, Art Center Nabi's exhibition «Lay artist» is an instance of an 'anti-biennale', since it is an exhibition with not only media artists recognized in the art world, but also artists from the general public, or 'Lay Artists'.
'Lay Artist' is a new word coined from layman, which signifies general people or commoners. These people are leading agents who transform themselves and the society through creative practices in their fields, regardless of the art world's evaluation on their works. They are the quiet leaders of the so-called 'Everyday Life Revolution' and at the same time the epitome of next-generation artists acknowledged by Art Center Nabi. The existence of Lay Artist is even more noteworthy as it is evidence that everyone has a creative spirit, a revolutionary seed, the DNA of an artist. (via Artcenter Nabi)
—-
One my wearable art pieces, Swing Skirt, will be shown in the Lay Artist with other amazing artists works. Surely it will be a great art festival to see and experience the bunch of art conference, performance and art and design pieces in Seoul which will open in 4th September.
To visit Artcenter Nabi's website to see more information.