[exhibition] SECRET: Nothing to See Here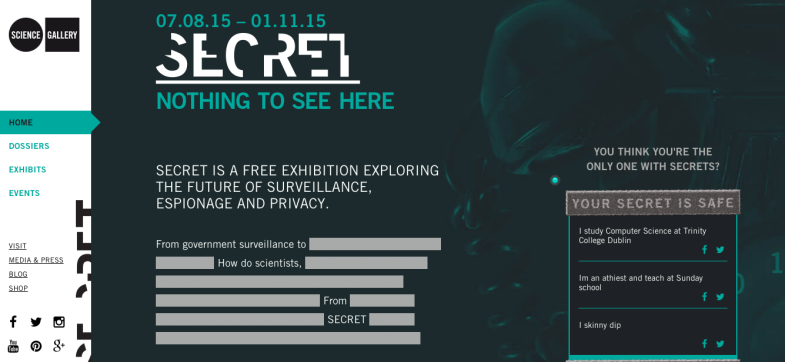 "SECRET IS A FREE EXHIBITION EXPLORING THE FUTURE OF SURVEILLANCE, ESPIONAGE AND PRIVACY.
From government surveillance to Hollywood spoilers, everyone has a secret. How do scientists, hackers, spies, journalists, psychologists, criminals, companies and governments approach this new world of secrets? From Easter eggs to cryptocurrencies, puzzles to politics, SECRET asks what needs to be be revealed, and what should remain hidden."
Science Gallery Dublin have launched a new exhibition since last week 11th August 2015, and The Republic of Privacy is taking a part of it. The exhibition will be continued till by 1st November 2015.
Please check more information via the link below:
http://dublin.sciencegallery.com/secret/?utm_source=Weekly+Mailing&utm_campaign=129930913e-Weekly_Mailing+05.08.2015&utm_medium=email&utm_term=0_f1d47e4113-129930913e-124532881